Other Featured Products

• Design your own NFPA label. Our online wizard makes it easy to fill in a template, proof your label and send it to the factory for professional printing.

• Select from hundreds of pre-printed NFPA Chemical Labels with chemical title. These labels have compliant details about chemical properties, hazards, safety procedures and more.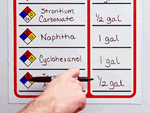 • Write in your chemicals and ratings. Great for metal chemical cabinets.

• Make your own sign from one of our kits. Or, design your own NFPA placard online and have it professionally printed by the factory.