Because there was no coordination between these agencies as they were developing their regulations, a chemical could be hazardous in one system, and not regulated in another. The label that was required for a product could be very different, depending on the market in which it was being sold.
A similar thing happened internationally. Each country or region developed its own hazard communication programs, with its own classification schemes and labeling requirements. Canada's workplace rules (Controlled Products Regulations) were similar to those of OSHA, but it requires pictograms on labels, which OSHA did not. The European Union had a system in place since 1967 which was very different than that of either the US or Canada.
As a simple example, consider "Sneeze Right," a hypothetical product containing 1% of a chemical that is a respiratory sensitizer. The following are the workplace labels that would have been required:
Although both Canada and the European Union require pictograms on a label, they are different, and, as you can see from the examples, neither is intuitive. In the case of Canada, the symbols required for pesticides and for consumer products are different from one another and from the workplace.
Interestingly, if the chemical that causes respiratory sensitization were present at 0.9%, it would only be regulated by Canada.
For many years the transport sector had a uniform system for the classification and labeling of products through the efforts of the United Nations Committee of Experts on the Transportation of Dangerous Goods (UNCETDG), but its work was restricted to physical hazards and acute toxicity. Further, the scope of the recommendations dealt with the products during transportation – not use. For this reason, long term health effects were not addressed.
Although the need for a consistent system of classification and hazard communication for all aspects of a chemical product's life cycle was recognized for a long time by regulators and the regulated community alike, the real impetus for creating such a system occurred at the 1992 United Nations Conference on Environment and Development held in 1992 in Brazil. Agenda 21, paragraph 19.27 stated:
In the US, OSHA issued a final rule on March 26, 2012 adapting its workplace regulations to conform to the GHS. As the EU did, the OSHA rule provides for several transition periods:
December 1, 2013
Train employees in label elements and SDS.
June 1, 2015
Comply with all requirements of final rule.
December 1, 2015
Distributers must assure that labels on shipped containers contain new label elements.
June 1, 2016

Employers must:
Update workplace labeling
Update hazard communication program
Train employee about new health and physical hazards.
OSHA set its date for compliance to coincide with that of the EU. Note that OSHA permits voluntary compliance before the dates in the above table.
The GHS covers all hazardous chemicals and may be adopted to cover chemicals in the workplace and in transport, consumer products, pesticides and pharmaceuticals. The target audiences for the GHS include workers, transport workers, emergency responders and consumers. The GHS system was not written as a model standard or a regulation that a country could "cut and paste" in creating its own law or regulation. The GHS standardizes and harmonizes the classification of, and hazard communication for, chemicals. It is a logical and comprehensive approach that:
It utilizes a so-called "building block" approach, whereby each country could select those elements appropriate to its different sectors (workplace, transportation, consumers, and pesticides) in creating its own regulations. As pointed out above, the GHS classification system covers three hazard groups:
Within each of these there are "classes" and "categories". Each of these parts is called a "building block". Each country can determine which building blocks of the GHS system it will use. However, once building blocks are chosen, the corresponding GHS rules for classification and hazard communication must be used. This building block approach provides flexibility, yet maintains uniformity, thereby achieving the overarching goal of harmonization across countries and within sectors.
A critically important aspect of the GHS is that the hazard communication requirements, particularly label elements, are specified for each hazard class and category. This avoids the confusion apparent in Figure 1, wherein text and symbols are different or non-existent. Therefore, each of the three chapters of the Purple Book covering physical, health and environmental hazards contains a section on hazard communication that lists the symbol, signal word and hazard statements. We will learn later that precautionary measures are also provided in an Annex.
Before one can classify a substance or a mixture as to its hazards, the physical state must be ascertained. The GHS provides the following definitions:
Substances and mixtures are generally classified on the basis of test data which are specified in Part 2 of the GHS. The GHS provides guidance with practical information to assist in applying the criteria. Note: for some physical hazard classes, the chapters contain methods for classifying mixtures based upon component information.
The following are the physical hazards that have been described by the GHS:
The following ten health hazards have been defined by the GHS:
Substances are classified on the basis of available data or test results. Mixtures, on the other hand, are classified by a tiered methodology:
As mentioned above in the introduction to the GHS Health Hazards, Bridging Principles are an important concept in the GHS for classifying untested mixtures. When a mixture has not been tested, but when there are sufficient data on both the individual components and similar tested mixtures to adequately characterize the hazards of the mixture, these data can be used in accordance with the bridging principles listed below. The use of bridging principles allows the maximum use of existing data and minimizes testing on animals.
All bridging principles do not apply to every health hazard class. A fuller explanation of the bridging principles that apply to the above health hazard classes is listed in each chapter of Part 3.
The GHS currently incorporates two environmental hazards for the following media: water and the ozone layer.
The following four factors are used in classifying aquatic hazards for the GHS:
This hazard class contains only one category. Substances are assigned to Category 1 if it is any of the controlled substances listed in Annexes to the Montreal Protocol. Any mixture containing ≥ 0.1% of at least one controlled substance is also classified as Category 1.
As shown in the Figure in the Introduction, the label for the same product can be different, depending upon the country in which it is sold. And even within a country, a label can look and read differently depending upon the market in which it is sold. One of the aims of the GHS was the development of harmonized hazard communication system, including labels, safety data sheets and comprehensible symbols. The GHS includes the appropriate labeling tools to convey information about each hazard class and category. The ILO, which was the working group assigned hazard communication, identified the following target audiences and the different needs of each:
The following label elements have been standardized: symbols, signal words, statements of hazard, label format, and color. Precautionary statements have not yet been fully harmonized; however, the UN Purple Book provides guidance on the selection of appropriate statements in Annex 3.
The red border is part of the pictogram.
Standardization of labeling information has been accomplished by including in each chapter in parts 2, 3 and 4 a section on Hazard Communication that lists the required symbol, signal word, and hazard statement. In the case of a substance or mixture that belongs to more than one hazard class, these three hazard communication elements must be taken into account for each hazard class. This section on labeling provides guidance on such situations and on determining the precedence for symbols and hazard statements. In the case of signal words, "Danger" takes precedence, and "Warning" is not used.
Guidance is also provided for the label format. For example, the GHS requires that the hazard pictograms, signal word, and hazard statements be located together. There is also guidance on the labeling of small packages.
Section 3 of Annex 3 to the Purple Book is entitled "Use of Precautionary Statements," and includes general precautionary measures as well as tables of recommended precautionary statements for each hazard class and hazard category of the GHS. The tables also incorporate the other required hazard communication elements.
The following is a representative table for a substance or mixture classified as a flammable solid: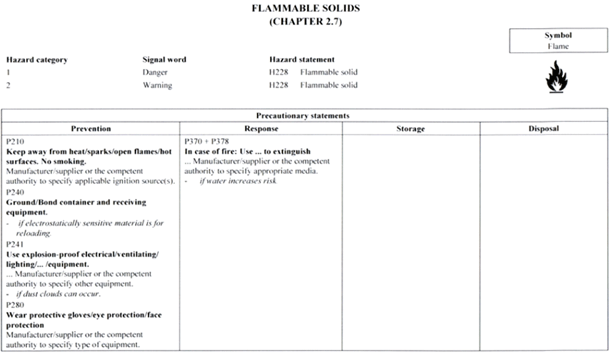 As you can see, the precautionary statements are grouped by type (Prevention, Response, etc.). Not every hazard class includes all of the types, as shown. When using these tables, it is important to refer to all of tables that apply. Thus, in the case of a substance or mixture that has more than one hazard, for example flammable solid and aspiration hazard, it will be necessary to refer to both tables to determine the required precautionary statements.
The SDS is a comprehensive document that provides detailed information about a substance or mixture. The primary target audience for the SDS is the workplace, although it is useful for emergency responders and transport workers. Both employers and employees rely on the SDS to provide important information about the hazards of the substances and mixtures to which they are exposed, and about safety precautions they can take to assure their well-being. Although the label also provides hazard statements and precautionary measures, the very size of a label restricts how much information can be provided. Further, not every product is packaged in a container (i.e., bulk shipments), so a label is not available in all instances. But every product must have an accompanying SDS.
SDS are product specific but not workplace specific, so they generally are not able to provide information that is relevant for a particular workplace. However, employers can use the information in an SDS to tailor worker protection measures, including training, which are appropriate to her or his workplace. SDS also contain important environmental information that will allow the employer to establish measures to protect the environment.
A SDS prepared according to the GHS contains the following 16 sections, in the order shown:
1
Identification

GHS product identifier.
Other means of identification
Recommended use of the chemical and restrictions on use.
Supplier's details (including name, address, phone number, etc.).
e) Emergency phone number.

2
Hazard(s) identification

GHS classification of the substance/mixture and any national or regional information.
GHS label elements, including precautionary statements. (Hazard symbols may be provided as a graphical reproduction of the symbols in black and white or the name of the symbol, e.g., flame, skull and crossbones.)
Other hazards which do not result in classification (e.g., dust explosion hazard) or are not covered by the GHS.

3
Composition/information on ingredients
Substance

Chemical identity.
Common name, synonyms, etc.
CAS number, EC number, etc.
Impurities and stabilizing additives which are themselves classified and which contribute to the classification of the substance.


Mixture
The chemical identity and concentration or concentration ranges of all ingredients which are hazardous within the meaning of the GHS and are present above their cutoff levels.

NOTE: For information on ingredients, the competent authority rules for CBI68 take priority over the rules for product identification.
4
First-aid measures

Description of necessary measures, subdivided according to the different routes of exposure, i.e., inhalation, skin and eye contact, and ingestion.
Most important symptoms/effects, acute and delayed.
Indication of immediate medical attention and special treatment needed, if necessary.

5
Fire-fighting measures

Suitable (and unsuitable) extinguishing media.
Specific hazards arising from the chemical (e.g., nature of any hazardous combustion products).
Special protective equipment and precautions for firefighters.

6
Accidental release measures

Personal precautions, protective equipment and emergency procedures.
Environmental precautions.
Methods and materials for containment and cleaning up.

7
Handling and storage

Precautions for safe handling.
Conditions for safe storage, including any incompatibilities.

8
Exposure controls/personal protection

Control parameters, e.g., occupational exposure limit values or biological limit values.
Appropriate engineering controls.
Individual protection measures, such as personal protective equipment.

9
Physical and chemical properties

Appearance (physical state, color, etc.).
Odor.
Odor threshold.
pH.
melting point/freezing point.
initial boiling point and boiling range.
flash point.
evaporation rate.
flammability (solid, gas).
upper/lower flammability or explosive limits.
vapor pressure.
vapor density.
relative density.
solubility(ies).
partition coefficient: n-octanol/water.
autoignition temperature.
decomposition temperature.

10
Stability and reactivity

Chemical stability.
Possibility of hazardous reactions.
Conditions to avoid (e.g., static discharge, shock or vibration).
Incompatible materials.
Hazardous decomposition products

11
Toxicological information
Concise but complete and comprehensible description of the various toxicological (health) effects and the available data used to identify those effects, including:

information on the likely routes of exposure (inhalation, ingestion, skin and eye contact);
Symptoms related to the physical, chemical and toxicological characteristics;
Delayed and immediate effects and also chronic effects from short- and long-term exposure;
Numerical measures of toxicity (such as acute toxicity estimates).

12
Ecological information

Ecotoxicity (aquatic and terrestrial, where available).
Persistence and degradability.
Bioaccumulative potential.
Mobility in soil.
Other adverse effects.

13
Disposal considerations
Description of waste residues and information on their safe handling and methods of disposal, including the disposal of any contaminated packaging.
14
Transport information

UN Number.
UN Proper shipping name.
Transport Hazard class(es).
Packing group, if applicable.
Environmental hazards (e.g., Marine pollutant (Yes/No).
Transport in bulk (according to Annex II of MARPOL. 73/78 and the IBC Code).
Special precautions which a user needs to be aware of or needs to comply with in connection with transport or conveyance either within or outside their premises.

15
Regulatory information
Safety, health and environmental regulations specific for the product in question.
16
Other information
If specific information is not applicable or not available under one of the sub-headings, the SDS should clearly state this. Blanks are not permitted. If country specific information, such as permissible exposure limits, is included, the SDS should state the relevant country/region.
The GHS includes Annex 4, which provides guidance on preparing an SDS.
As noted earlier, the GHS is modular, consisting of "building blocks" that could be selected by countries and agencies in developing a specific hazard communication system. Accordingly, the OSHA rule includes all GHS physical hazard classes and categories, and all health hazard classes. However, the following health hazard categories are not regulated by OSHA:
In addition, because OHSA's mandate is the workplace, no environmental hazards are included.
Also, as mentioned previously, the GHS also allows countries to keep national requirements that it does not cover. Accordingly, the OSHA definition of a hazardous chemical is:
Those hazards printed in bold are not in the universe of hazards listed in Parts 2-3 of the GHS, but are being regulated by OSHA. Hazard Not Otherwise Classified (HNOC) means an adverse physical or health effect identified through evaluation of scientific evidence that does not meet the specified criteria for classification (in other words, it has not been identified in the GHS as a physical or health hazard). This category does not include those hazards that:
Another significant change relates to the manner in which a mixture is classified. Under the "old" OSHA Hazard Communication Standard, a mixture was classified as hazardous if it contains more that 1% of an ingredient that is classified as hazardous, or 0.1% in the case of a carcinogen. Under the "new" rule, there are specific criteria for each hazard class.
An SDS for HNOC chemicals is required and information regarding their hazards must be included in Section 2.
The following are some highlights of the OSHA rule:
With regard to safety data sheets, the following are still required on the SDS