Do Not Operate Without Guards Labels
(25827)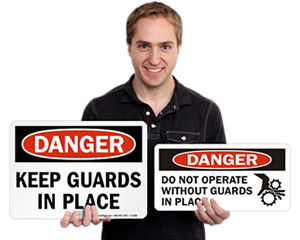 As a facility owner, employee safety is one of the most important responsibilities you hold. Protect your employees against various mechanical hazards by posting
Do Not Operate Without Guards Labels
. These labels remind workers not to work on a machine without machine guard in place which prevents the operators from physically reaching around, under, or through the dangerous machine parts and shields them from flying dust or debris.
• Each label has a comprehensive and clear message leaving no room for ambiguity.
• We have both – ANSI and OSHA danger labels to effectively warn your employees against mechanical hazards.
• Paper and vinyl labels come with good adhesive backing suitable for metallic surfaces too.
• For more information, visit our - Machine Guarding FAQs
Look for this Symbol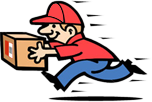 Ships Tuesday
. Order within
00 hrs 00 mins
---
Do Not Operate Without Guards Labels
[67385]
More Machine Warning Labels
[80234]
Frequently Asked Questions
Q.
Are your machine guarding labels OSHA compliant?
A.
Yes, they are. We have designed our machine guarding labels following the design and text specifications covered underOSHA 1910.145. The labels we offer include ANSI and ISO designs as well.
Q.
How durable are your velvet Lexan machine guard labels?
A.
Velvet Lexan is one of our most durable label materials used in labeling. Machine guard labels made of this material feature 5 mil thick Lexan with a velvet surface that is anti-glare, textured, and hides smudges, fingerprints, and scratches. Printed in full color with graphics protected from chemicals and abuse, these labels are designed to last at least 3 years outside.
Q.
How do regular polyester machine guarding labels compare with their 'polyester with overlaminate' counterparts?
A.
Both polyester and polyester with overlaminate machine guarding labels are made of 2 mil thick polyester. The main difference is that polyester with overlaminate features an additional layer of 1 mil thick glossy laminate, enhancing the labels' chemical resistance and durability.
Q.
Do you offer rigid machine guarding signs as well?
A.
Of course, we do! We offermachine guarding signs in DANGER, WARNING, CAUTION, NOTICE, and SAFETY FIRST headers. These are available in different orientations, sizes, and plastic as well as aluminum materials.
Q.
Are 'do not operate without guards' labels in matte paper material suitable for outdoors?
A.
Made of 100% post-consumer recycled paper facestock, matte paper labels are economical and designed for short-term, temporary, and dry indoor applications. These should not be exposed to moisture and may not be a good choice for outdoor applications. You may explore our vinyl, polyester, and velvet Lexan labels for outdoor usage.
Q.
Can I get a multi-pack of different machine guard labels?
A.
We do offer machine guard label multi-packs, such asKeep Guards In Place,Do Not Operate Without Guards, and many more. Most of these packs contain 4 or 5 labels each of the same design, and you may order different multi-packs together. If you have any specific requirements, you may always reach out to us at [email protected] or 800 952 1457, and we shall be happy to help.
Q.
How do I get an invoice for my machine guarding labels order?
A.
The order invoice is sent in the confirmation email that we send you after the order is placed. You may also ask us on the chat service available on our website, and we will share the invoice link with you.
Alternatively, you may contact us on 800 952 1457 or [email protected], and we will be happy to email the invoice to you.