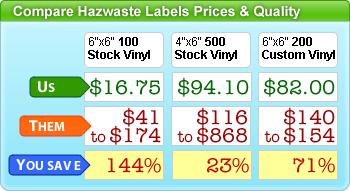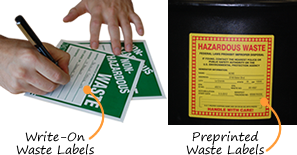 Generators must mark any Hazardous Waste drum or (or non-bulk) container with a label. DOT rules require that essential information such as the name / address of the shipper, tracking number and EPA number be shown on the shipment. Importantly, labels should give the public clear instructions to contact the police, public safety officer or EPA should a Hazardous Waste container be found.
We offer both drum-grade and tested vinyl as well as affordable paper.
To save time and enhance readability, order preprinted labels. It's easy and very economical to order custom Hazardous Waste labels.
We also offer free printable hazardous waste labels. Design online, download a PDF and print yourself. For free!